Vvfly Snore Circle 5.0 Snore Stopper
Vvfly 5.0 Snore Circle,the latest version, more convenient, more secure
Shipping to {{shipping.country}} is not available currently
---
Ask Question
Product Description
Vvfly Snore Circle 5.0 Snore Stopper is made of PC material, which greatly reduces its weight. The working intensity of product intervention can be adjusted through APP to flexibly choose the appropriate working mode. The product will work automatically after starting upand it will automatically saves data.
[Bone conduction and voice recognition technology]:The product can recognize snoring through bone conduction technology and voice recognition technology, and then the product will send out slight pulses to carry out physical intervention from weak to strong for users. (The work intensity of product intervention can be adjusted through App to select a suitable work mode for you. )

[Synchronous data]: Download the app, establish a special database, and observe the change of snoring in real time.

[High capacity battery]:Super long standby time gives you the most comfortable experience.

[ABS+PC]:Ultralight material, reduce dead weight.

[Intelligent intervention ]:Recognize snoring, intelligent regulation of pulse current.
It can help you avoid embarrassment when your snoring interferes with someone else's rest whether at home or out in public.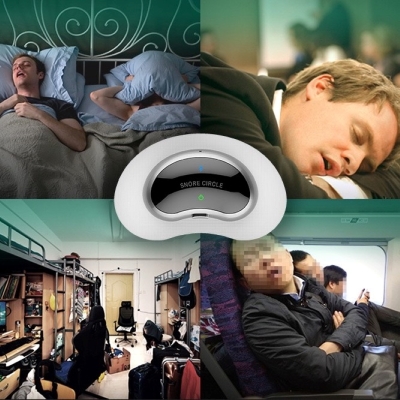 Product Information
Model Number
VVFLY Snore Circle 5.0 Snore Stopper
Net Weight
10g
Snore Circle Size
40.5mm*25.5mm*13mm
Package Size
15.0 cm * 10.0 cm * 5.0 cm
Material
ABS+PC
Charger Box Battery Capacity
3.7V/80mAh
The Power Supply Mode
USB
Pulse Frequency
10Hz-1500Hz
Working Time
About 15 hours
What's in the Box:
1 * Snore Circle
1 * Getting Started Guide
1 * Instruction
1 * Charging Dock
1 * Charging Cable
10 * Magnetic Suction Patch
FAQ
Do you have questions about the product ? Please fill the form below. We will reply later.
Show More
Show Less

Payment Security
We support PayPal and Stripe for payment. Flexibility and security every time you pay.

Easy Returns
If you are not satisfied with your purchase, you can
return it to us
with a full refund.