Wakeman Bone Conduction Bluetooth Anti-sleep Smart Sunglasses
Open ear conduction headphones support hand-free calls
Shipping to {{shipping.country}} is not available currently
---
Ask Question
Product Description
WAKEMAN Bone Conduction Glasses is a smart sunglasses with integrated bone conduction speakers that enable to transmit sound waves to the skull via vibrations. It is an amazing anti-sleep helper, especially useful for preventing drivers from sleeping on the highway. You just need shake your head to start the anti-sleep function. Connecting to your phone through Bluetooth, you can nod/shake your head to answer/reject phone call, control music or radio station. You can also use it to prevent dust, wind and UV ray.
Bone ConductionTechnology, which transmits sound waves to the your skull without the use of earbuds.

Open Ear Solution lets you hear the around sound when listening to music, ride bikes and not get hit, safer than earphones or headphones.

Wireless Bluetooth 4.0 frees you from tangled wires, easy to operate, can receive wireless calls on the glasses.

Built-in Artificial Intelligence tracks your eyes and vibrate to prevent from sleeping while driving.

Hand-free Headset just nod/shake the head to answer/reject phone call; turn your head to switch songs and rise/lower your head to adjust the volume.

Polarized lenses( replaceable ) provide a good protection and a better view for your eyes.

Smart sunglasses with Micro USB charging.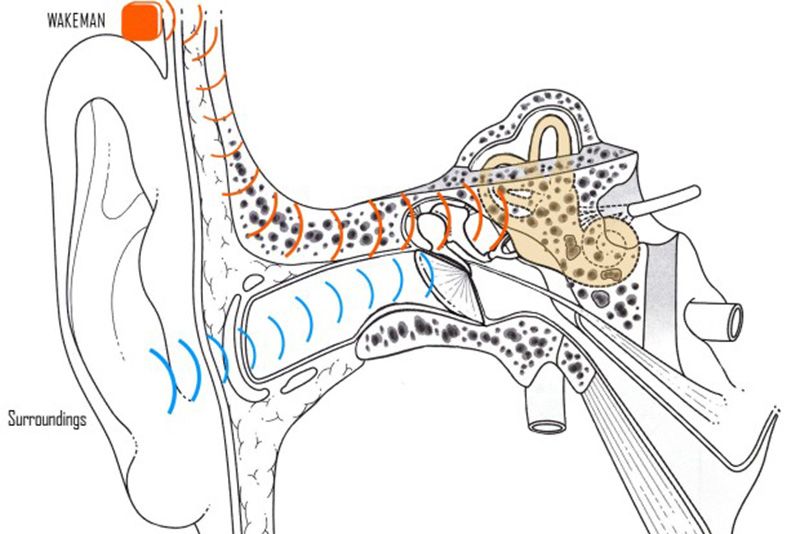 Wakeman Bone Conduction Sunglasses uses vibrations to transmit audio information into your skull without blocking or covering your ears.
Product Information
| | |
| --- | --- |
| Bluetooth version | CSR4.0 |
| Transmission distance | 10 meters |
| Battery capacity | 300mAh |
| Charge voltage | Micro USB 5V 0.5-1A |
| Talking time | ≥ 4hrs |
| Anti-sleep time | ≥8hrs |
| Charging time | 2 hrs |
| Material | ABS + PC |
| Working temperature | -10°C ~ +60°C |
| Product weight | 39g |
| Compatibility | All Bluetooth integrated devices |
Package List:
1 x Wakeman Bone Conduction Bluetooth Anti-sleep Smart Sunglasses
1 x Box Case
1 x User Manual
FAQ
Do you have questions about the product ? Please fill the form below. We will reply later.
Show More
Show Less

Payment Security
We support PayPal and Stripe for payment. Flexibility and security every time you pay.

Easy Returns
If you are not satisfied with your purchase, you can
return it to us
with a full refund.