Teslong Rifle Bore Scope 1.0 Megapixel
0.2inch Gun Barrel Borescope Camera with Short Focus Camera, Side-View Mirror, for Windows, Mac, Linux and Android
Shipping to {{shipping.country}} is not available currently
---
Ask Question
Product Description
The cleaning and maintenance of rifle barrel is an important process of gun equipment maintenance to ensure the safety, accuracy and service life of guns. Flexible bore scopes are not only used to inspect the barrel of a rifle, but also to visualize any parts of the gun that are difficult to penetrate, as long as these parts are enough for the bore scope probe to enter. Endoscopic examination of gun barrels is relatively easy. You can view endoscopic images in real time through a personal computer, a personal mobile phone or a monitor. You can also take photos or record video data. The caliber of the rifle barrel will be worn out during each shooting and cleaning. The use of professional gun barrel bore scope will make your rifle barrel cleaner and more thoroughly maintained, which will save you time, improve the accuracy and service life of the gun.

Inspection of new and second-hand rifles before purchase

Find the dirt inside and clean it up

Inspection of wear and tear of gun hole

Inspection of barrel defects

Traditional flexible bore scopes are widely used in the maintenance of rifle barrels. They provide users with an absolutely clear and clear image.

For barrel inspection, due to limited space and small caliber of barrel, endoscopes need good lighting and very short focal length. Our rifle barrel bore scope, with a very fine diameter, can be used in 5.56mm barrels. They are fitted with side-view mirrors and focusing rings. The optimum focal length can be adjusted according to the diameter of different barrels to obtain high-definition video effect, so as to check whether the barrel is dirty, whether the riflings are worn or not, and whether the chamber is damaged.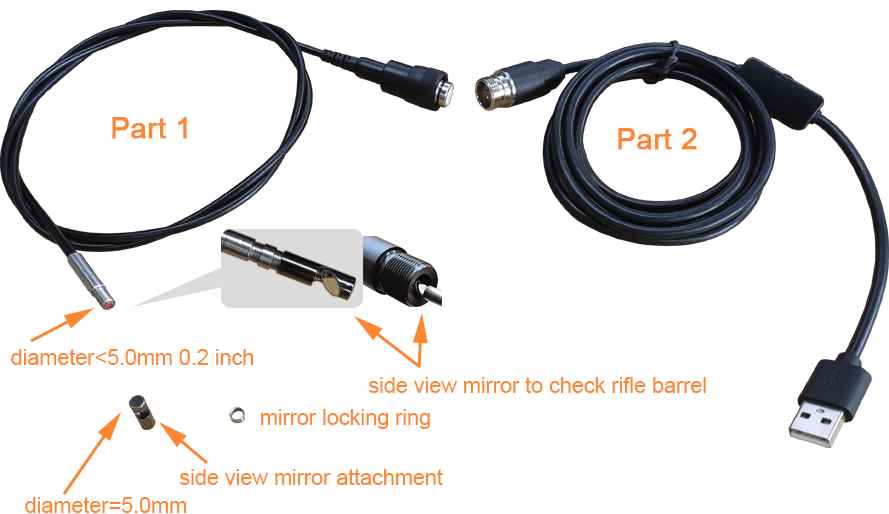 Part 1 can connect to Teslong video endoscope NTS150, NTS300 and NTS500
If don't have monitor, with Part 2, you can connect it to Windows, Mac, Linux and Android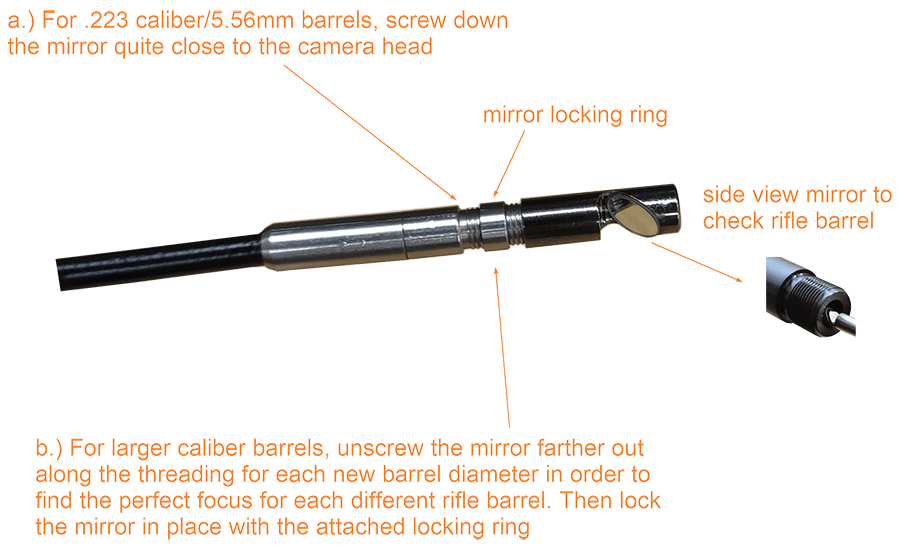 For some Android devices, if there is nothing in the preview area, please get into Android Settings | Permissions | Storage Permissions | and enable Teslong Camera

Product Information
| | |
| --- | --- |
| 5mm Diameter Camera | Industry leading camera diameter of 0.2inch, easy enter the rifle, fits .20 caliber and larger barrels |
| Camera Resolution | 1.0 Megapixel |
| 40 Inches Long Elastic Cable | Enough provide a view of the entire inside of the barrel.The elastic cable is easy to handle, and it can also be bent for storage in a carrying bag. |
| Photo and Video | Images can be captured and save to your computer or smartphone |
| Software Function | Please install suitable APP for your devices. |
| Windows 7/8/10 or later | 1.[Windows Camera]—The built-in Camera software of Windows10, only for Win10.2.[Teslong camera] or [Amcap] |
| Android 4.4+ | [Teslong camera], [CameraFi] or [USB Camera] |
| Mac OSX 10.6+ | [Photo Booth] or [QuickTime Player] |
FAQ
Do you have questions about the product ? Please fill the form below. We will reply later.
Show More
Show Less

Payment Security
We support PayPal and Stripe for payment. Flexibility and security every time you pay.

Easy Returns
If you are not satisfied with your purchase, you can
return it to us
with a full refund.