Magic Array Wireless Charger
Applicable to iphone, Android, mobile phone wireless charger can also be used as mobile power
Shipping to {{shipping.country}} is not available currently
---
Ask Question
Product Description
Small Magic Array Charger-It is a combination of a wireless charger and a mobile power source. 100mm diameter, a variety of LED color changes, two capacities, two options, can do wireless charging can also do mobile power. Small capacity can be put on the plane.
---
| | |
| --- | --- |
| iPhone | Xs, Xs Max, Xr, X, 8/ 8Plus |
| Samsung | S6, S6dege, S6dege+, S7, S7dege, S8, S8+, S9, S(Light Luxury), Note5, Note6, Note7, Note8, Note9 |
| Nokia | Lumia820, Lumia830, Lumia920, Lumia925, Lumia928, Lumia929, Lumia930, Lumia1020, Lumia1520, 8Sirocco |
| Xiaomi | Mix 2S |
| Handshaker | Smartisan R1 |
| HTC | HTC OZY, HTC DroidDNA(US Version), HTC 8X(US Version) |
| LG | V30s, ThinQ, G2, G3, G6+, LGV30 |
| Google | Nexus4/5/6/7 |
| Sony | Xperia XZ2, Xperia XZ4v |
| Moto | Moto droid Turbo2 |
| Huawei | Mate20 Pro, Mata RS |
| Russia YOTA | YOTAPhoe2 |
Suitable for a variety of power needs, automatically identify phone output. Mobile phones with shells may also charge.

Two charging states, which can be turned on or off when charging. A variety of LED lights color changes, very cool.

Suitable for a variety of models of mobile phones.

The version has 10W wireless fast charge and 20 color bright LED.
Its small size will not occupy a large space on the desktop. When you need to recharge your mobile phone after you work, you can easily charge your mobile phone by putting your mobile phone on the small magic array. (Your mobile phone is the right model)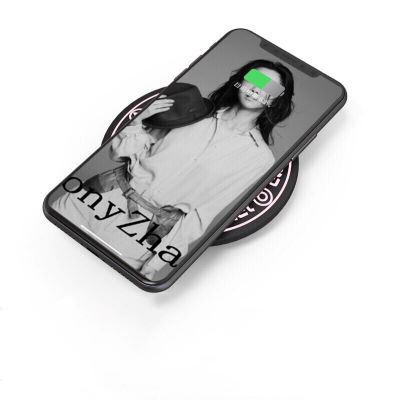 Product Information
| | |
| --- | --- |
| Input parameter | 9V |
| Output parameter | 9V |
| Type | Wireless Charging |
| Charging current | 1500mA |
| Indication function | YES |
| Interface | USB |
FAQ
Do you have questions about the product ? Please fill the form below. We will reply later.
Show More
Show Less

Payment Security
We support PayPal and Stripe for payment. Flexibility and security every time you pay.

Easy Returns
If you are not satisfied with your purchase, you can
return it to us
with a full refund.