PP GUN
A Gun-Shaped Controller for FPS Game Supporting Mobile Devices, Oculus
Shipping to {{shipping.country}} is not available currently
The item is out of stock now.
---
Ask Question
Product Description
PP GUN (pad power gun) is the first gun shape game controller for mobile device in the world, it changes the way of playing FPS games. You can fix your smart phone or tablet on it, to change the view by turning your body, aim the target by moving the gun, shoot by pulling of the trigger, you can also feel a comfortable recoil force from the gun when shooting.Rather than sitting on your couch and suffering through the pain of your thumbs cramping up, you can now stand up and move around as if you were physically in the game, you will feel like a real warrior and enjoy the real pleasure of game.
---
Note:
Not all Smart phone and tablet under Android system have gyroscope chip in itself, if not, then it must be support OTG. At present, due to the limitations of connection APP, Jailbreak IOS or root Android is necessary, PC can use directly. And, the pad in picture is not included.
PP Gun is the first rifle FPS game controller for mobile devices in the world, it will will redefine the FPS games, immerse gamers into the game itself to receive a true gaming experience

It is compatible with IOS, Android and PC systems via Bluetooth

PP GUN comes with an attachable bracket that holds your mobile device at the tip of the gun allowing the player to hold and point the gun correspondingly, to their gaming screen

PP Gun also has recoil force feature

LG 9000mAh battery cell for long using time

PP Gun is optimized designed, holding it makes you feel like a real warrior
Product Information
| | |
| --- | --- |
| Connection Way | Bluetooth 3.0 + 2.4G |
| Support System | IOS / Android / Windows |
| Support Devices | Smart phone, Tablet, Computer |
| Support Games | IOS system ( FPS games with gyroscope mode ) / Android and Computer ( all FPS games ) |
| Battery | 5V 9000MAH |
| Charging Way | USB |
| Charging Time | 8 hour |
| Using Time | 120min |
| Age | 9+ |
| Material | ABS |
Package List:
1 * Gun, 1 * Clip ( Battery ), 1 * Pad Holder, 1 * Strap, 1 * Badge, 1 * Bluetooth Module, 1 * 2.4G Module, 1 * Charging Cable, 1* Buckle, 1 * Shelf, 1 * English Manual

More About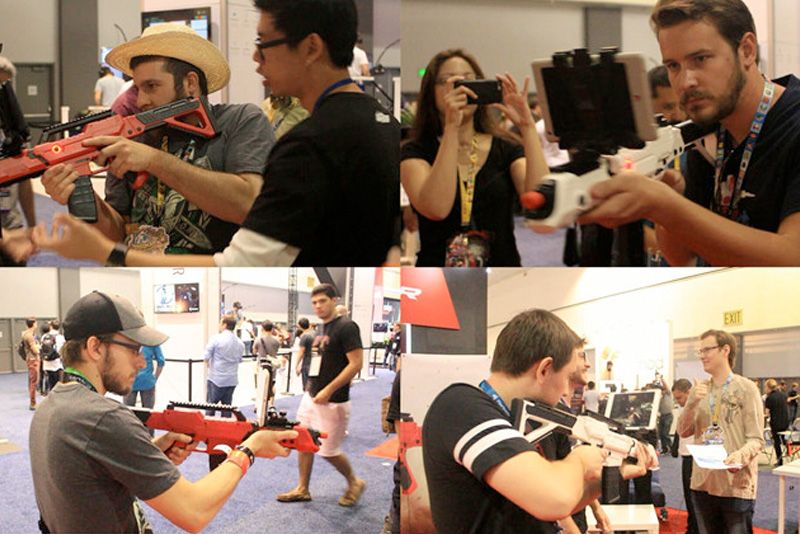 RIFLE DESIGN
PP GUN is optimized designed, holding it makes you feel like a real warrior.
Related Video Shorts
FAQ
Do you have questions about the product ? Please fill the form below. We will reply later.
Show More
Show Less

Payment Security
We support PayPal and Stripe for payment. Flexibility and security every time you pay.

Easy Returns
If you are not satisfied with your purchase, you can
return it to us
with a full refund.