Infinity Cube EDC Fidget Toy
Killing Time Toys For ADD, ADHD, Anxiety, and Autism Adult and Children
Shipping to {{shipping.country}} is not available currently
---
Ask Question
Product Description
A Must-have EDC Fidget Infinity Cube Toy for Kid, Teens and Adults! Great For Anxiety, Phone Stress, Autism, ADD,Quit Smoking, Staying Awake On Long Car Drives, Helpful for Focus and Deep Thought!
Simple Design - Composed of eight cubes small box. Each cube can be rotated from any direction and angle.

EDC Fidget Toy - Can be converted into a flat state, which is only 20mm thick, no thicker than your wallet, and easily pocket-able.

High-quality Anodized Aluminum Alloy - Through the G-10 fiber link and brass needle connection, delicate and durable.

Improve Focus & Relieve Anxiety - Allowing you to fidget with one hand and work with the other, ideal for fidget, anxiety, ADHD, autism, staying awake and other attention disorder issues, like nail biting, smoking, leg shaking, etc. Take a break from your stress inducing phone and relax with Infinity Cube.

Warning - Not suitable for children under 3 years of age, for children of 3-7 years old, please use under the adult supervision.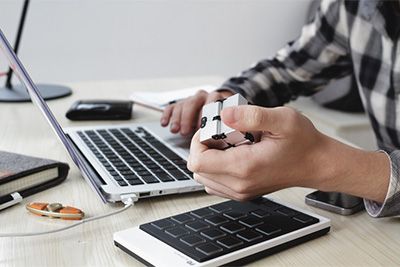 It allows you to fidget with one hand and work with the other. Take a break and fold it over and over again while you brainstorm ideas.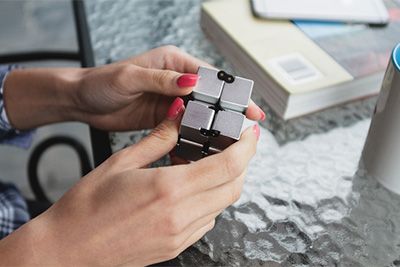 A FIDGET BREAK
A fidget break while studying or working will relieve the built up anxiety and stress, clearing your mind to tackle that project.
Product Information
| | |
| --- | --- |
| Materials | Anodized Aluminum Alloy |
| Type | EDC Fidget Toy |
| Function | Improve Focus & Relieve Anxiety |
| Size | 80*40*20mm |
| Weight | 170g |
What's in the Box:
1 x Infinity Cube EDC Fidget Toy for Stress and Anxiety Relief
FAQ
Do you have questions about the product ? Please fill the form below. We will reply later.
Show More
Show Less

Payment Security
We support PayPal and Stripe for payment. Flexibility and security every time you pay.

Easy Returns
If you are not satisfied with your purchase, you can
return it to us
with a full refund.