Emoi 3-in-1 Smart Aroma Diffuser Lamp Speaker
Patent Essential Oil Aroma Diffuser with Music, 7-Color LED Changing Mood Lighting, 1-3 Hour Timer Setting, APP Control for Home and Office
Shipping to {{shipping.country}} is not available currently
---
Ask Question
Product Description
Emoi Smart Aroma Diffuser Lamp Speaker, with its cross-functional design of combining diffuser, humidifier, Bluetooth music player and lamp, is a great expression of emotional design. By adopting smart technology, emoi creatively links product with living environment and people's emotional appeal. This great product gives full display of emoi's consistent design style of simplicity, functionality and aesthetics.
[3-in-1 Design] An innovative integration of Bluetooth speaker, LED color lights and aroma diffuser offers a great feast of your senses of hearing, sight, smell, and touch.

[Super Fine 100ml Diffusion] Support continuous noise-free use of 3 hours fine misting at 2.4MHz to provide moisture for your body prevent chapped skin and lip. Patent design of vertical diffusing vent is inspired by bubbling spring water in Nature avoids local over moisture. Add 2-3 drops of essential oil to create a fragrant private space. [ESSENTIAL OIL NOT INCLUDED]

[Light & Music] LED Multicolor night lights create a romantic atmosphere. Bluetooth speaker could be easily connected to your smart phones and play any music from your phone. Independent sound chamber highlights prominent performance of bass and surrounds sound.

[1-3 Hour Timer] Easy timer setting of 1-3 hours allows you to adjust air humidity misting time at will ease during work/sleep/yoga/spa. Waterless auto shut-off function ensures the safety of you and your beloved ones.

[APP Control] Bluetooth enabled APP makes you in easy and whole control of diffusion, led lights, music play, and timer setting. APP control supports devices like iPhone 4s/newer, iPad 3/newer, iOS 7/newer and Android 4.0/newer.

[Special Gift] As a gift for someone special to you.

[Warranty] 1 year.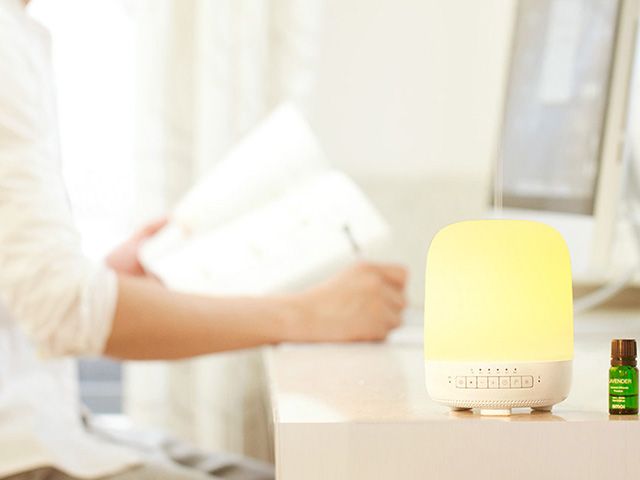 OFFICE
Personal office desk/ Office/ Meeting roomKeep one at the office to help you relax on your lunch break.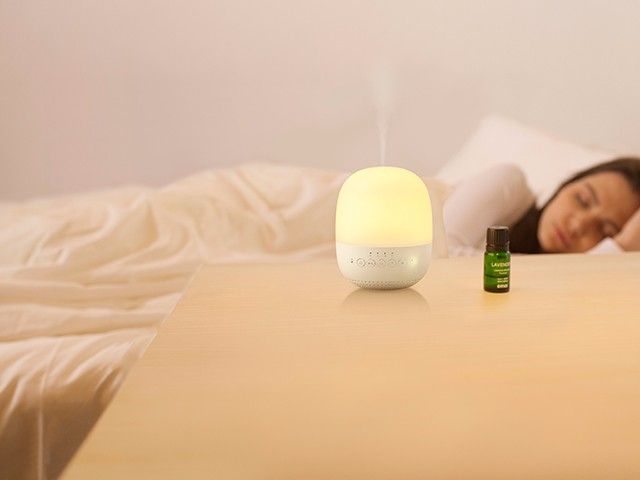 HOME
Bedroom/ Study/ Living roomSet one on the bedside table to help your mind and body relax so you can sleep better at night.
Product Information
| | |
| --- | --- |
| Product | Emoi 3-in-1 Smart Aroma Diffuser Lamp Speaker |
| Model | H0035 |
| Size | ¢110mm×136mm |
| Bluetooth | 4.0 |
| Transmission distance | 10m |
| Weight | 355g |
| Input | DC24V 1000mA |
| Speaker | 3W |
| Atomizing frequency | 2.4Hz |
| Atomizing time | 3hrs |
| Water capacity | 100ml |
| LED power | 0.8W |
| Materials | PP+ABS |
Package List:
1 x Emoi 3-in-1 Smart Aroma Diffuser Lamp Speaker
1 x DC Adapter(Length 1.8m)
1 x Measuring Cup(100ml)
How To Use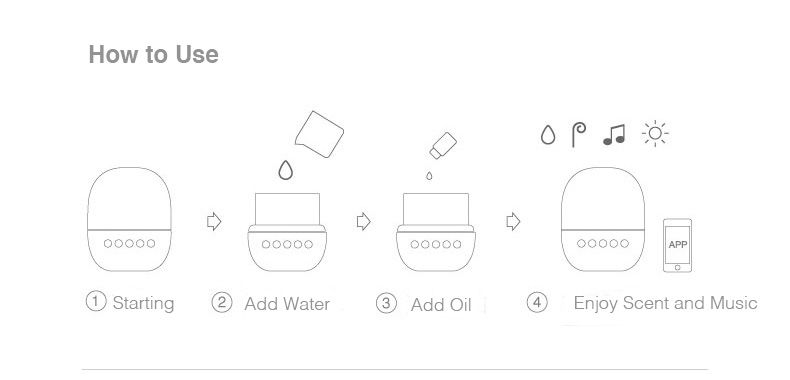 1.Remove the cover and add add up to 100ml water
2.Add 2 - 3drops(More drops depend on your needs) of natural essential oils
3.Place back the cover and press diffuser button to start
4.Switch on Bluetooth speaker function
5.Connect your device with emoi H0035
6.Play music from your playlist or third party APP
7.Switch on light function
8.Adjust 2 levels of lighting by short pressing the light button
9.Long press the light button to multicolor mode and short press to change static colors.

emoi Smart App is available on both Apple Store and Google Play

FAQ
Do you have questions about the product ? Please fill the form below. We will reply later.
Show More
Show Less

Payment Security
We support PayPal and Stripe for payment. Flexibility and security every time you pay.

Easy Returns
If you are not satisfied with your purchase, you can
return it to us
with a full refund.