CPC Certificated Robotime Rokr Educational Mechanical Toy for Adults 3d Wooden Puzzle Toy for Kids
CPC Certificated Robotime Rokr Educational Mechanical Toy for Adults LGA01 Model Night City Jigsaw DIY Assembled 3d Wooden Puzzle Toy for Kids
Shipping to {{shipping.country}} is not available currently
---
Ask Question
Product Description
The Rokr Super Hardcore Mechanical Transmission Model is a handmade toy that is very suitable for exercising brain power, suitable for teenagers and adults. It inherits the wisdom of Chinese ancient craftsmen, tenon and mortise technology, and fine polishing. It is the inheritance of the wisdom of Chinese ancient craftsmen, and it feels smooth and not rough. Bring you the fun of assembling by yourself. Closely designed, fully digitally controlled process, positioning each process. This is a creative 3D wooden puzzle specially designed for adults and young people. We choose the primary design that best reflects the beauty of the machine to create more interesting, free and creative trendy new products for players with a spirit of exploration around the world.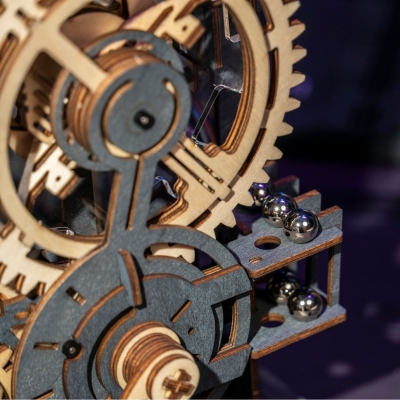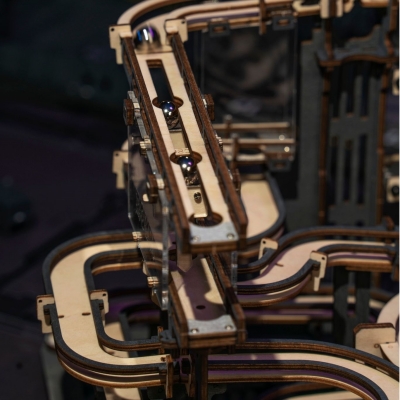 [Mechanical Transmission] Super hard-core mechanical transmission model builds complex rail cities. Gear transmission, parallel multi-layer tracks, scientific decompression of orderly movement, and gravity pulls the steel ball.

[Wood Grain Dip Dyeing* Metal Screen Printing] The two-in-one process greatly changes the look and feel. The wood grain dip-dyeing process makes the overall appearance of high-grade black and gray, and the metallic silk screen printing technology allows the wooden board to retain the wood grain while giving it a metallic texture.

[Breaking through material limitations and incorporating high-transparency acrylic] Acrylic is matched with wooden boards to reconstruct the pure wooden structure of the first-generation track ball, showing a more transparent expressive power and giving a sense of the future. Tenon and mortise technology, physical assembly of the whole structure.

[Deciphering the left brain code] The assembly process trains logical thinking and retrieves the "missing" concentration. Feel the pleasure of brain collision.

[Rewarding Challenge] 3~4 hours' highly satisfying building experience, this building kit will put your visual-spatial skill and patience to the test. But you will find yourself absorbing in the construction and get inspired on STEM concepts and imagination.
Attention: 1. Choking Hazard-- Small parts. Not for children under 3 years old.
2. Follow the instruction can be helpful to build puzzles easily.
3. Use the sandpaper when the puzzle is not easy to be assembling.
Product Information
| | |
| --- | --- |
| material | plywood,wooden |
| product category | 3D puzzle |
FAQ
Do you have questions about the product ? Please fill the form below. We will reply later.
Show More
Show Less

Payment Security
We support PayPal and Stripe for payment. Flexibility and security every time you pay.

Easy Returns
If you are not satisfied with your purchase, you can
return it to us
with a full refund.