2 IN 1 Portable Tabletop Shuffleboard Curling Games for Outdoor Travel
2 in 1 Tabletop Shuffleboard Pucks and Curling Game Mini Table Games for Travel Bar School Training family Children
Shipping to {{shipping.country}} is not available currently
---
Ask Question
Product Description
The 2 in 1 shffleboard game is playable on both sides and dual-play. It is a roll-type design and it does not occupy space. You can play it anytime and anywhere. It's made of a thin flexible vinyl/plastic material that is easy to roll up and store, the ball-bearings inside the plastic "stones" simulated the relative weight of the stones, while the surface was slippery enough to produce the ice-like effect of easily sending the stones far.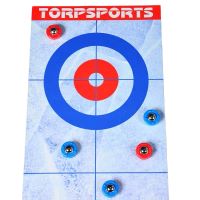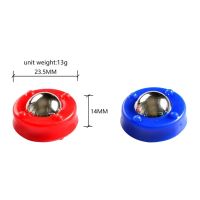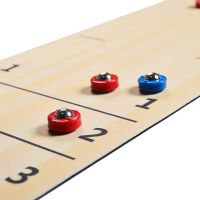 2 in 1 Games: The shuffleboard on one side and curling on the other side, which will meet your needs.
Sliding Pucks: The set includes 16pcs sliding pucks, and the puck measure about 0.92inch in diameter (23.5mm),0.45oz unit pic chrome-plated steel ball with ABS around.
Easy to Use: The set is fast and easy to set up, and it gives the table top games for family fun.

Premium Material: The set features the eco-friendly rubber material steel ball plastic shuffleboard, and the product size is about length 91cmx width 20x thickness 2mm/35.83x7.87x0.79in.

Perfect Gift: This set is the best gift for relatives and friends, which will meet their needs.
Product Information
| | |
| --- | --- |
| Material | Rubber Steel |
| Weight | 500g |
| Product size | 20cm * 2cm * 91cm |
| Product packaging size | 7.2cm * 7.2cm * 24.5cm |
| Age Level | Above 3 Years Old |
What's in the Box:
1 * game board
16 * rollers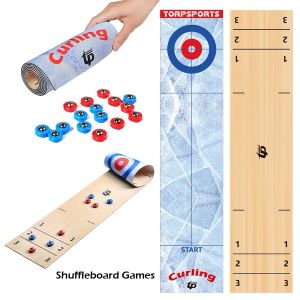 Related Video Shorts
FAQ
Do you have questions about the product ? Please fill the form below. We will reply later.
Show More
Show Less

Payment Security
We support PayPal and Stripe for payment. Flexibility and security every time you pay.

Easy Returns
If you are not satisfied with your purchase, you can
return it to us
with a full refund.